Donations to the Kickstarter campaign enabled this project to be successfully funded in January 2015! We are currently in post-production and will update through Kickstarter and on this Web site.  http://kck.st/12AKMq9
This documentary will reveal the cruel secret that some in the various equine breeding industries don't like to acknowledge or talk about: Every year during breeding season, hours-old, non-pedigreed foals are taken from their mothers, whose job is to be a nurse mare to a pedigree foal.
This cycle continues, over and over. The foals with championship potential are nourished by nurse mare's milk critical to the health and survival of a baby horse. But what happens to the non-pedigreed and discarded foals? Many are left to die. But since 1991, about 150 foals every year have been lucky enough to be rescued by the Last Chance Corral in Athens, Ohio during foaling season every January through June.
This is a documentary in-the-making about the Last Chance Corral and the selfless work of founder Victoria Goss who saves the lives of these foals and adult horses in need of another chance in life.
Vigilant throughout the foaling season, Victoria receives calls from nurse-mare farms sympathetic to the rescue work she performs. The clock is against her as she speeds to receive the handoff of weak and hungry newborns. Working night and day Victoria and a few helpers teach foals to drink on their own, keep them warm with blankets, and administer needed medication. Not all of them make it, but Victoria's low 2 percent mortality rate astounds veterinarians. When the foals are stabilized, they are adopted by those qualified in equine care and housing. Some have become stars in their own right as therapy horses.
In October 2010, I volunteered at Last Chance Corral in Athens, Ohio, to muck stalls and help stock hay into one of the three barns on the property. Little did I know then nor understand what this horse rescue has done since 1991. When I truly wrapped my head around the story of the nurse mare foals, I was still drop-jawed with questions. I had to tell this story about the heroic work performed by Last Chance Corral founder Victoria Goss. Ever since that weekend, it has been my passion to pull this off.
"Born to Die" developed into my master's project at Ohio University's School of Visual Communication. I produced a 10-minute film, but my goal is to bring awareness to both the issue of these "disposable foals" and Victoria's work through a 30-minute documentary that shows the compassion and commitment that drive her and the Last Chance staff and its volunteers.
The "Born to Die" Kickstarter funding will go directly toward the expanded development, production and distribution of the film. My hope is to create awareness, but "awareness without action is worthless."
Thank you for watching. Please act. Save a life.
– Sue Morrow, November 2014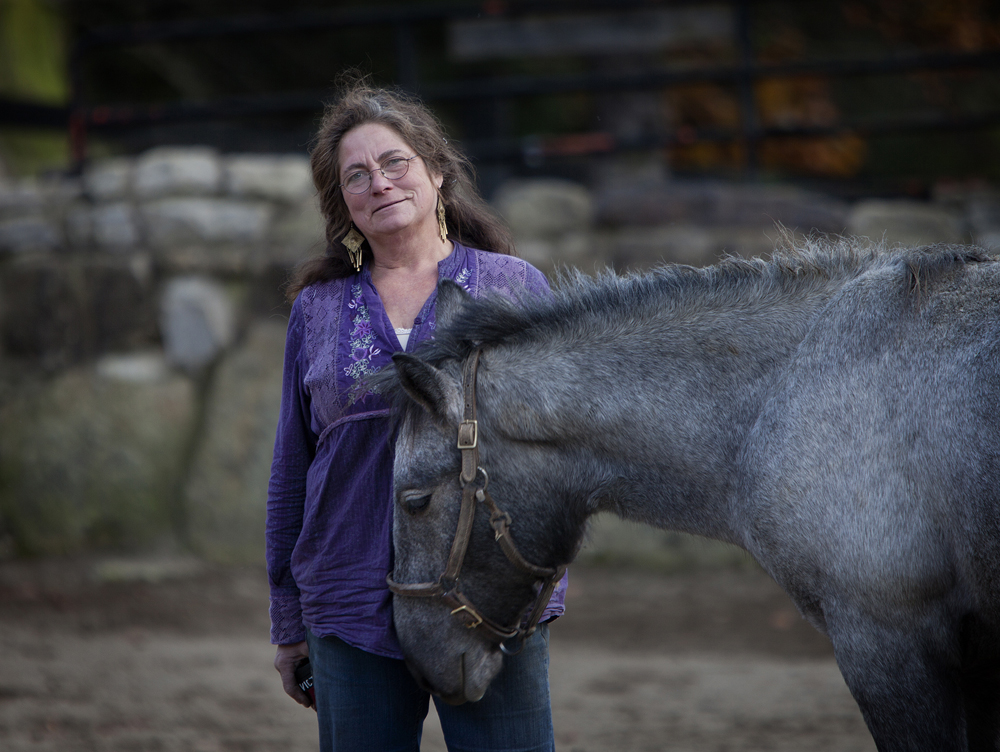 Victoria Goss and Wander, April, 2012. Wander arrived at Last Chance Corral as a nurse mare foal in 2008.
For more information about Last Chance Corral lastchancecorral.org